July 28, 2006
5 THINGS
Saw this a couple of places.
Five things in my purse
1. coupons
2. chapstick
3. Big Red One pen
4. Charlie's old dog tag
5. the wallet Angie Dente tossed out when she moved
Five things in my refrigerator
1. box of wine

2. pre-sliced mushrooms (I don't even have to cut them myself in this country!)
3. Big K Diet Cherry Soda (yep, we're such misers that we drink generic cola)
4. string cheese
5. Reeses Cup cheesecake bites
Five things in my car
1. air freshener
2. a towel to cover the steering wheel so it's not in direct sunlight
3. jumper cables
4. Really, that's it; I hate extra stuff in the car
5.
Five things in my closet
Five? Just FIVE? We lost about 700 sq feet in this move, and we're moving again in less than five months so nearly everything we own is in a closet. I just sent Erin a photo of our two hilarious closets. I don't know if you can properly tell from the photo, but these are huge walk-in closets. Or at least they're meant to be, unless you cram them to the brim.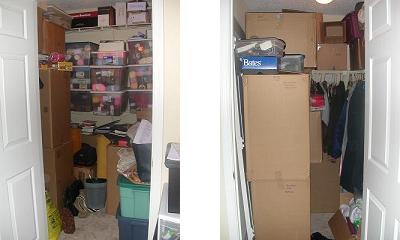 Yes, that's right, look at all that yarn. And that's not even the stuff I was whittling away for the bears...
Posted by: Sarah at 12:01 PM | No Comments | Add Comment
Post contains 221 words, total size 1 kb.
40kb generated in CPU 0.0111, elapsed 0.0832 seconds.
45 queries taking 0.0763 seconds, 156 records returned.
Powered by Minx 1.1.6c-pink.