November 17, 2008
I WAS FUNNY?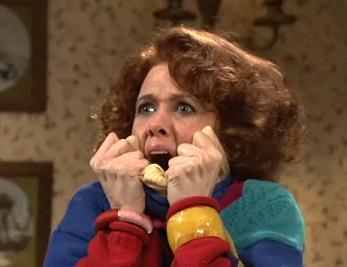 I am not funny.
I sit on the funny panel at SpouseBUZZ Live and hate everything that comes out of my mouth. I am like Chris Farley in those old SNL skits -- "Idiot! I'm so stupid!" -- after everything I say. I don't like being funny. My peeps bring teh funny, not me.
And I don't do impressions. I don't even have a Cartman or a Slingblade. I can't do it.
So who knew that I would crack AWTM up.
With apologies to Rachel Lucas for stealing her line, they need to legalize gay marriage so that Kristen Wiig can be my wife.
This is for you, AWTM.
Every time we go to one of these SBL weekends, someone will ask me what I did. Did you see the Space Needle, Did you see the Alamo? I don't seem to be able to explain that the only thing I care about is being with my friends. In the swank Hotel Murano or the ghetto fabulous Sahara, I just want to be in my gulch.
These people, we grok each other.
Posted by: Sarah at 04:35 AM | Comments (4) | Add Comment
Post contains 187 words, total size 2 kb.
November 05, 2008
HEH
I recorded SNL from Saturday but hadn't watched it yet. Holy cow, Ben Affleck did a
hilarious impersonation
of the crazy that is Keith Olbermann. I almost feel sorry for laughing at him when he had a butt for a face. Almost.
And John McCain was quite funny, especially the campaign strategies. He should just show up on SNL periodically; he always makes me laugh on that show.
Posted by: Sarah at 03:19 PM | Comments (1) | Add Comment
Post contains 70 words, total size 1 kb.
TIME FOR A LAUGH
Amritas says, "
Varifrank
talks about change I can believe in!"
"A new President has been elected. Well that aught to teach him…"

The Office of the Presidency is a cruel inhumane joke that we invented to trap our most agressive alpha males. They get attracted to the scent of power, and the find themselves trapped in the steel jaws of a governmental system thats designed on purpose to not work.

That's why everyone comes into the office of the President loks like a bright shiny penny and leaves the office looking like a bag of freshly hammered dog crap.
Snort. Also, via Hudnall, a funny Onion article: Black Man Given Nation's Worst Job
Posted by: Sarah at 10:18 AM | No Comments | Add Comment
Post contains 121 words, total size 1 kb.
45kb generated in CPU 0.0428, elapsed 0.1131 seconds.
48 queries taking 0.1033 seconds, 166 records returned.
Powered by Minx 1.1.6c-pink.