October 19, 2005
HEH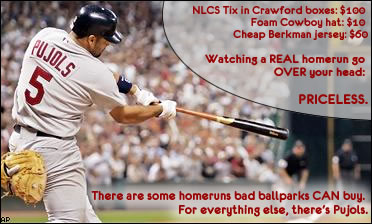 Honestly, the second thing I thought when my husband shook me awake at 0530 (after thinking "Cool!") was "Poor Deskmerc..." I've never been very good at maintaining rivalries.
Posted by: Sarah at 05:32 AM | Comments (2) | Add Comment
Post contains 30 words, total size 1 kb.
HUH?
Last night I was listening to a radio program about the benefits of pet therapy, where they take nice doggies to hospitals to cheer up patients. The program said, "Pets are a great way to reduce anxiety."
Um, I'd like to negotiate a trade.
Yesterday Charlie looked me right in the eye and squatted to pee on his bed, ate the first ten pages of The Federalist Papers, and managed to chew a hole in the bag of dog food on the shelf so that he could sit under it and have food pour down into his mouth.
Reduce anxiety, my foot.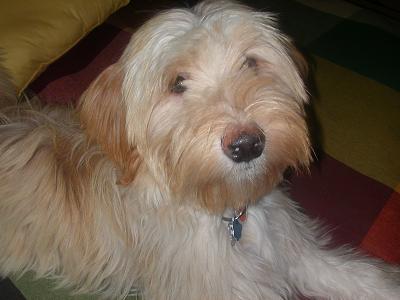 Posted by: Sarah at 05:07 AM | Comments (7) | Add Comment
Post contains 104 words, total size 1 kb.
October 07, 2005
CHECK SIX
Doc Foglesong is
retiring
?! Man, that's gonna cut the number of TV commercials in half around here!
(This joke is dedicated to The Girl)
Posted by: Sarah at 05:44 AM | Comments (5) | Add Comment
Post contains 28 words, total size 1 kb.
October 04, 2005
BAD SHOWER
My neighbor called because her hot water wasn't working. Mine seems to be just fine, but who knows how these screwy buildings work. I've lived here two and a half years and I still don't understand how to work the heater.
Anyway, as I was getting into the shower this morning, I remembered the strangest shower I've ever taken.
When we lived in France, my friend had a bizarre bathroom setup. Imagine a cross between a stand-up shower and a bathtub, and not in a good way. Her bathing apparatus was the dimensions of a stand-up shower but with the porcelain sides of a tub, reaching about three feet off the floor. So if you're standing in the tub/shower, the side of the tub reaches mid-thigh. And then there's nothing -- no curtain or door -- but there's a nozzle for a shower. There's a seat in the thing, kind of like a jacuzzi-style shelf. Oh, and in the middle, at about belly button height, there's a series of strings for drying laundry. Seriously. I wish I had a picture.
So one day I decide that my curiousity is too great, and I ask my pal to use her shower. I just have to see this for myself. And I proceed to take the most miserable shower of my life.
In my own apartment, the shower had exactly three and a half minutes of hot water, so I was not unaccustomed to misery. But the moment I turned on the water in my friend's shower, ice water sprayed all over me...and all over most of the bathroom too, since there's no curtain to control it. But since I'm an idiot, I didn't just shut it off and get out, oh no. I took the whole danged shower.
When I got back to my friend's room -- did I mention that she shared this monstrosity at the end of the hall with two strangers? -- I asked her if her water was always that cold. She said that it was never pleasant, and I could tell that she thought I was being overly critical. That afternoon she learned that the hot water had been shut off in the whole building, and I had indeed taken a shower that was worse than usual.
As if things could get any worse than that hybrid shower-tub.
Posted by: Sarah at 05:04 AM | No Comments | Add Comment
Post contains 396 words, total size 2 kb.
October 01, 2005
HEH
My husband got a real laugh out of
this interview
with R. Lee Ermey, G. Gordon Liddy, Evel Knievel, Merle Haggard, and Jack La Lanne. (But don't read it unless you can appreciate a man's man.)
MORE TO GROK:
Speaking of Liddy, CavX got interviewed by G. Gordon Liddy! Wow!
Posted by: Sarah at 06:12 AM | No Comments | Add Comment
Post contains 52 words, total size 1 kb.
51kb generated in CPU 0.0465, elapsed 0.1663 seconds.
49 queries taking 0.1349 seconds, 179 records returned.
Powered by Minx 1.1.6c-pink.