February 22, 2007
YOU REALLY CAN SPIN ANYTHING...
Ha -- Penn and Teller get hippies at WorldFest to
sign a petition banning water
. Too rich. I love the last line of the clip: "Yeah, we set these folks up. But it does show that maybe they're not so much environmentalists as they are
joiners
...of anything."
Posted by: Sarah at 04:02 AM | Comments (2) | Add Comment
Post contains 57 words, total size 1 kb.
February 21, 2007
MORTIFYING
I read this funny
story about opening presents
on my friend's blog:
So I have one funny story . . . the first box I opened was a waffle iron . . . I was like this is a nice waffle iron we can make them tomorrow for breakfast. I continued to open boxes and read cards . . . about 15 minutes later Colin stepped on the waffle iron box and it collapsed. I told Nancy that I don't think it is a waffle iron in there . . . so I opened the box and it was a project that two special people have been working on for a long time . . . it was a quilt with photos of Sean, Colin, and me . . .
I have a similar story, only mine was a hundred times more bonehead.
When my husband and I got married, an old friend of my mom's sent us a package that arrived the day before the wedding. In all the commotion of wedding planning, I hastily tore of the brown paper wrapping and noticed it was a Honeywell fan. I figured it would come in handy, and I set it out on the table of gifts.
The husband and I loaded up all our gifts into a U-Haul after the honeymoon and moved to Missouri for six months, where we had air conditioning. All our stuff got packed up again and stayed in storage while we were at Fort Knox for another six months. We arrived in Germany a year after our wedding that HOT summer of 2003 when all the French grannies were dying of heatstroke. I couldn't wait for our household goods to finally arrive so I could break out that Honeywell fan.
Um, yeah, it wasn't a fan. It was bedsheets in a fan box.
Do you know how embarrassed I was? I sent these people a thank you card for a fan.
In my mortified state, I had to sit down again and pen a long, apologetic letter explaining why on earth I hadn't opened the danged box, and how, though I had thanked them profusely for a very useful and nice fan, I was also equally excited to get bedsheets. Over a year later. It was probably one of the most embarrassing things I've done in my life.
Coulda used a fan that summer in Europe...
Love the sheets though.
Posted by: Sarah at 07:42 AM | No Comments | Add Comment
Post contains 407 words, total size 2 kb.
February 02, 2007
THE IMAGINARY BABY IS ALREADY DOOMED
The husband has been considerably less excited about starting a family right now. He had certain milestones he wanted to reach before he became a father -- a specific chunk of change in investments, finished with his MBA -- and if we get started now, he won't be at his benchmarks. But he did have an a-ha moment that has made him more receptive to the idea over the past 24 hours: he realized that if we had the baby now, we'd get the earned income credit for 2007. Lord, I married my father.
We have been having a good deal of fun making up names for the imaginary baby. Jack Bauer LastName is a common joke around the house. Though the absolute gut-buster was when my husband suggested David Lo Pan LastName. And when he said it was no big deal if I stopped drinking, that we could easily raise a "party baby."
My husband's got jokes.
Posted by: Sarah at 05:00 AM | Comments (9) | Add Comment
Post contains 170 words, total size 1 kb.
February 01, 2007
YOU MUST BE KIDDING
This is what our neighborhood looks like this morning.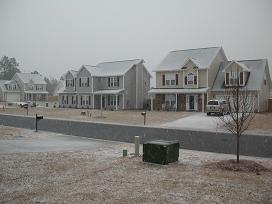 My husband left for work and then came home about 10 minutes later. There's a two hour snow delay. They told him he doesn't even need to bother coming in today.
The South is hilarious.
Posted by: Sarah at 03:19 AM | Comments (13) | Add Comment
Post contains 52 words, total size 1 kb.
56kb generated in CPU 0.015, elapsed 0.076 seconds.
49 queries taking 0.0655 seconds, 187 records returned.
Powered by Minx 1.1.6c-pink.