June 21, 2007
June 16, 2007
ANIMAL FARM
The dog's lived with us for two years now, and apparently he's made himself quite at home. I walked into our room just now, only to find that Charlie's really gotten in touch with his human side. There he was, sprawled out in the middle of our bed, sleeping
with his head on a pillow
. If he opened his mouth and spoke tomorrow, I really wouldn't be that surprised.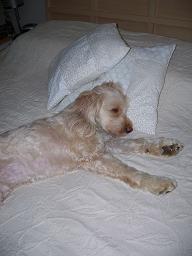 Posted by: Sarah at 08:55 AM | Comments (3) | Add Comment
Post contains 73 words, total size 1 kb.
THREE THINGS I LEARNED THIS WEEK
1. If you plant an apple tree, you'd better like Japanese beetles.
2. When you go in to scout out a new sewing machine, you will get wooed by the glamour of the really nice machines. Then in the car on the way home, you will suddenly break out of your hypnosis and wonder why you were considering spending an extra $600 so you could monogram something.
3. When you accidentally put double the flour in a batch of cookies, they don't necessarily get ruined...but you don't necessarily feel the need to eat the entire batch in one sitting either.
Posted by: Sarah at 08:46 AM | Comments (2) | Add Comment
Post contains 112 words, total size 1 kb.
June 08, 2007
DEBATE
I watched the Republican debate the other day and read the transcript from the Democrat one. I thought most of the questions seemed normal, though I did think it was a tad douchey to ask Huckabee to pin down exactly how many days he thought it took for God to create the world. Nobody asked Hillary to explain what exactly she thinks of Saul Alinsky. Some stuff just isn't important for the presidential debate.
That said, I love Frank J's suggestion for debate questions. It starts with "If you had to pick a minority group you like the least, which one would it be?" and gets even funnier.
Posted by: Sarah at 06:34 AM | Comments (1) | Add Comment
Post contains 110 words, total size 1 kb.
47kb generated in CPU 0.0177, elapsed 0.0793 seconds.
50 queries taking 0.0693 seconds, 171 records returned.
Powered by Minx 1.1.6c-pink.