May 09, 2009
WE'RE GONNA NEED A TRACKING NUMBER ON THAT PACKAGE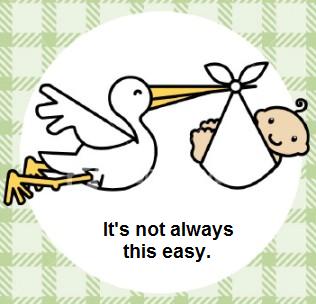 At the end of my appointment yesterday, the genetics counselor said that I seem remarkably well-adjusted and calm about my predicament. I told her that some experiences have been easier than others, and when I started explaining a few of the more difficult ones, I got choked up. Especially when I explained how I feel
frozen in time
while everyone else around me moves forward with life.
I sometimes forget how deeply this cuts.
When I first learned of
the balanced translocation
, I went through a vengeful stage. I wanted to knock on the door of everyone who told me to just relax and punch them. I wanted to point out everyone's wrongness and tell them to their face that it was even
worse
than they could've ever guessed. I wanted them to feel bad for all the stupid advice over the years and for their nonchalance in telling me I just
haven't been patient enough
.
I'm kinda over that, mostly. Somedays moreso than others.
The genetics counselor said that my specific translocation isn't the worst one in the world, and that if my husband and I wanted to keep trying the natural way, we'd have about a 50% miscarriage rate. We've flipped three tails already, but with a large enough sample size, we'd eventually get a heads.
When I pointed out that my husband is gone for nine-month chunks
and
I'm 31 1/2
and
we don't have a great track record of getting pregnant quickly
and
we're just flat out
done
with gambling, she agreed that
PGD
might be a good option for us. Especially since I already have a military fertility doctor to offset some of the $20,000 pricetag.
The next step is meeting with my doctor to find out how quickly we can get started and which company we will do the PGD through. She guessed it would be someone in New Jersey. Then I asked how that works, like do they run a test on the embryo and mail the data to NJ for interpretation? She said more likely they would have to send the entire embryo to a cellular-level specialist.
Let that sink in for a second, because it was the most interesting thing she said all day. My husband and I would start babies here with our doctor. The babies would then be FedEx'd to an embryologist who will take one of their eight cells out, test it, give the babies the thumb's up or down, and then FedEx the babies back to us so they could be injected into me and hopefully nestle in for nine months.
FedExing
a replicating and growing baby. Of all the wonderments...
I definitely will be following that tracking number.
If we manage to have a baby through this process, imagine telling our kid that story someday, that we loved him so much that we swaddled him in bubble wrap and sent him on a trip to a doctor to make sure he would grow up healthy and strong.
Or her. Or them.
Hopefully them.
Posted by: Sarah at 07:55 AM | Comments (8) | Add Comment
Post contains 516 words, total size 4 kb.
1
I remember thinking the
same
thing about FexEx when we were looking at shipping our frozen embryos to us instead of taking a trip to them. What a crazy world this is sometimes. Fingers crossed that it will be "them".
Posted by: dutchgirl at May 09, 2009 08:56 AM (2mwTw)
2
Frozen and FedEx'd embryos. I didn't see that one coming. It's amazing how you and I run on the same beat. So few people can even begin to understand the cyclical frustration wrapped around outsiders eternal optimist advice to Be Patient - It's Not Your Time Yet. Grrr the giant 'F*Off' that is held at the tip of our tongues. We try, it's not like we don't have other hobbies and sidetracks and live a little, but that doesn't fill our wombs for 9 months and produce the coveted pain of labor. Yes, some people actually CRAVE labor pains, just for the sole evidence that it finally ACTUALLY happened.
Good luck with the next round! Of course keep us updated! I love to hear about the adventure your life is continually taking, especially while we're at the deployed/sabbatical stage and we still don't have anything more concrete than irregular ovulation and so far a complete lack of being pregnancy. But that's an old store
which you know so well!
Posted by: Darla at May 09, 2009 09:41 AM (LP4DK)
3
Good thing it'd be FedEx! ;-)
Posted by: kannie at May 09, 2009 01:18 PM (S6srO)
4
I think we know how Brian would feel about trusting your embryos to FedEx, so I won't tell him...although, if I tell him they are shipped, he will ask. He's like that.
I know when people adopt & receive their referral paperwork via FedEx or UPS, they sometimes meet the driver at the door, camera in hand & he ends up having his photo taken b/c of the cargo he's delivering. Some are surprised and a little uncomfortable with the emotional response the parents have to a folder. Can you imagine the look on the delivery driver's face if you told him he had your EMBRYO in the box?! That would WAY be talked about at the dinner table!
If you want to split up the face punching duties, let me know. I'm happy to run around the country whacking people in the face who gave you the "Frankie Goes to Hollywood" advice.
Posted by: Guard Wife at May 09, 2009 08:11 PM (Bfea2)
5
As I said on that other post, I completely understand (though for a different reason) what you mean by feeling frozen in time, that your life is on hold. I'm trying to get my life off of "pause", and hope you get to do the same. It's just amazing what science can do these days, isn't it?
Posted by: Miss Ladybug at May 10, 2009 12:59 AM (paOhf)
6
A long time ago in a galaxy far, far away, I worked for an overnight delivery company. Â I didn't think much of this one styrafoam box I had to drop off at a medical office complex... Â until I walked down a hall to the receptionist's desk past little rooms with TV's and magazines. Â On the counter the one flyer I did notice was "Everything you wanted to know about ... donation." Â (Trying to be discreet so you don't wind up with weird google searches on account of me.) Â At the time, all I thought was that I had been carting around someone's swimmers.
In retrospect, the office probably had a lot more going on than donations. Â I think I'm going to revise that memory and tell myself it was an embryo.
Can I say I've delivered a baby now? Â 
Posted by: Code Monkey at May 10, 2009 04:50 PM (mAOsX)
7
I hope this round -- as weird as it may seem (fedex'ing embryo's ... who knew!) -- works out for you guys. A 50/50 chance seem slim but it's better than nothing. I wish you nothing but the best of luck and am keeping my fingers crossed for you!
Posted by: The Army Wife at May 11, 2009 08:49 PM (wB597)
8
Your babies will be Jersey babies! I am SO excited about that.
Posted by: wifeunit at May 16, 2009 04:58 PM (t5K2U)
Comments are disabled. Post is locked.
46kb generated in CPU 0.0229, elapsed 0.0904 seconds.
48 queries taking 0.0786 seconds, 131 records returned.
Powered by Minx 1.1.6c-pink.