April 13, 2011
FEELING GREAT
I am doing really well, just to let you know. Man, a natural miscarriage is SO much easier than an induced one. I imagine it's the same type of scenario as the difference between going into labor on your own and being spontaneously induced. This time has been gradual and virtually pain-free; I took 2 or 3 doses of some stronger meds, and then I took two ibuprofen for another day and a half. That's it! I can't believe the difference.
They're monitoring my hormone levels to make sure the process has completed itself, but I can't get over how easy this time was...and thankfully so, considering I don't really have the luxury of lounging in bed all day to recover!
Feeling fine, and ready to flip this coin again and see where it takes us.
Posted by: Sarah at 09:09 PM | Comments (5) | Add Comment
Post contains 138 words, total size 1 kb.
April 09, 2011
STARTING AHEAD OF SCHEDULE
Perhaps it's because I've already had a baby, I don't know, but my body seems to be reacting differently this time around. It appears I may miscarry this baby on my own without need for the medicine. We'll see as days go on if it looks like the process is complete, but for now it seems the miscarriage has started on its own...
Posted by: Sarah at 08:07 AM | Comments (3) | Add Comment
Post contains 67 words, total size 1 kb.
April 06, 2011
LITTLE ANGEL
No matter what, we still have our little angel (or Lima Alpha, as my husband calls her.)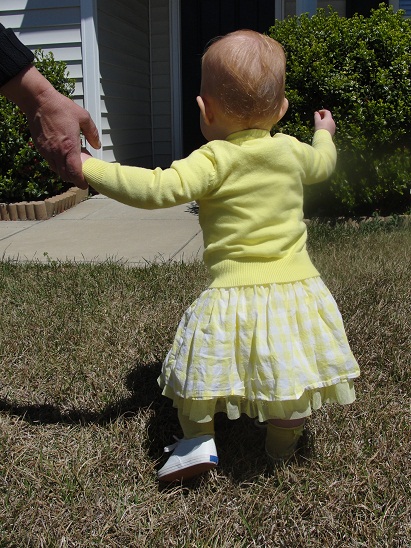 Posted by: Sarah at 04:11 PM | Comments (3) | Add Comment
Post contains 19 words, total size 1 kb.
POUCH PEEK
So we all filed into the ultrasound room today, me and two other ladies, and all our husbands, and also Baby Grok. We looked like a parade of hand-wringers. And while it used to tear my heart out to hear
other people's fantastically alive ultrasounds
, it didn't bother me to be seen last this time. While Baby Grok toddled around and played with the stirrups, I eavesdropped excitedly to hear whether they'd be able to discern the sex of the twins one couple was having (they couldn't yet). And I was happy to hear that the other couple's baby was still healthy and strong, since I actually know this woman and have seen her try to have a baby for a while now too.
And then it was my turn, and Schroedinger's cat never became a cat in the first place. I have an empty yolk sac, just like two previous pregnancies.
I will go back next week to confirm, and then I will get a prescription for the gut-wrenching medicine and take it the next weekend while my husband is home to care for Baby Grok for me. Sadly, it will be our last weekend together before he leaves for a three-month Army course.
And I will have to travel to see him at appropriately-scheduled intervals to try to make Pregnancy #6 be a heads.
I'm OK. Disappointed that we flipped wrong this month, frustrated that I can't consult my eggs first and make a good one come out instead, but OK.
So let's have a giggle and appreciate what we have: here's Baby Grok napping with her butt in the air.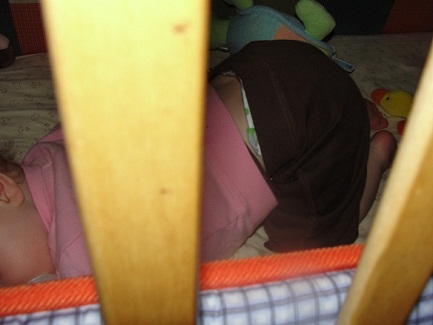 Posted by: Sarah at 09:43 AM | Comments (5) | Add Comment
Post contains 275 words, total size 2 kb.
47kb generated in CPU 0.0233, elapsed 0.0984 seconds.
50 queries taking 0.0821 seconds, 143 records returned.
Powered by Minx 1.1.6c-pink.