January 21, 2010
WE SHARE A BODY
For all its annoyances, I have been enjoying being pregnant.
On occasion I find myself impatient, just wanting her to get here already so I can meet her. But most of the time I'm perfectly happy being right where I'm at. I like having her inside of me. I giggle when I rest the laptop on my belly and she starts kicking at it, like "Hey, it's crowded enough in here without you smooshing me!" I like feeling her wiggle and tickle and move, even when it hurts.
And yet, I have never heard a mother wistfully say that she misses having her child inside of her. It must be
that
much more awesome to have them on the outside, because I think I will kinda miss it.
We will never be as close as we are right now, when we share a circulatory system...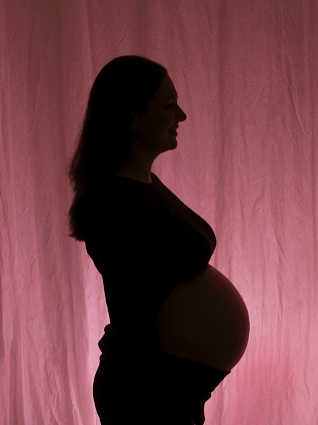 (Yep, I finally went and got maternity photos taken.)
Posted by: Sarah at 09:06 AM | Comments (17) | Add Comment
Post contains 158 words, total size 1 kb.
January 18, 2010
January 11, 2010
FOR KEEPS
We went to look at the
litter of puppies
when they were just 11 days old. Once we had
chosen Charlie
, we kept visiting him on the weekends until he was finally eight weeks old and we could take him home. And I always hated to leave him and eagerly awaited the day we could have him for keeps.
I feel the same way every time I get to see my baby.
I had another appointment today. My mother is also still in town, having gotten stuck here while trying to avoid of all the global warming across the country. So my favorite ultrasound tech gave grandma a quick peek at baby.
She's growing, especially in the cheeks. (And since these things are basically rorschach tests, I made a little drawing of her face beside it so you can tell what you're looking at.)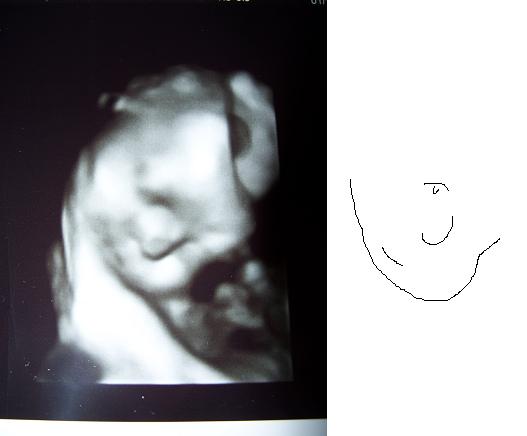 I had been feeling spry up until a few days ago when I hit a major wall, and now I know why: she's getting big, and I have a knee in my ribcage. I have finally hit that usch part of the end of pregnancy; I'm tired, sore, and chock full of baby. I ate lunch today and then threw it up in my mouth in Target afterwards. There's just no room. When I sit, she's up in my ribs. When I stand, she's sitting directly on my bladder. I finally understand what people mean when they say they're really uncomfortable and ready to be done being pregnant.
And I have two months left to go.
Two more months before I can take her home for keeps. And squeeze those cheeks.
Posted by: Sarah at 05:53 PM | Comments (16) | Add Comment
Post contains 277 words, total size 2 kb.
January 02, 2010
WHICH ANIMAL WILL SHE BE NEXT?
The vivid pregnancy dreams are quite amusing. Several times I've dreamt that I have a transparent stomach, that I can see inside and see the baby. I guess that's a high-tech
kangaroo pouch
! I'm always dreaming that I get to see her.
But recently I've begun dreaming that she's born, but she's a different species. About a week ago, she was a kitten. Last night she hatched from an egg as a chick. And both times, this has seemed completely normal.
Last night's dream was so vivid and detailed. My husband made it home from Afghanistan. A few hours later, I laid an egg, which we watched and held until a little beak broke through the shell. We helped remove pieces of shell and found a little yellow chick inside. And it was our baby! There was nothing odd about it. We were talking about how we needed to swaddle her tight so her chicken legs don't flail about, and I started crying. I looked at my husband and said, "We did it. You made it home and then she was born. We finally did it."
Right sentiments, wrong species.
But the really funny part of the dream was when I positioned the empty egg shell so that I could take a photo of it to put on my blog for all of you to see...
Posted by: Sarah at 09:08 AM | Comments (7) | Add Comment
Post contains 232 words, total size 1 kb.
64kb generated in CPU 0.0429, elapsed 0.2088 seconds.
49 queries taking 0.1822 seconds, 167 records returned.
Powered by Minx 1.1.6c-pink.