November 22, 2009
LIKE A BIG FOAM FINGER
The ultrasound tech decided to start a caption contest this week. Anyone else want to join in?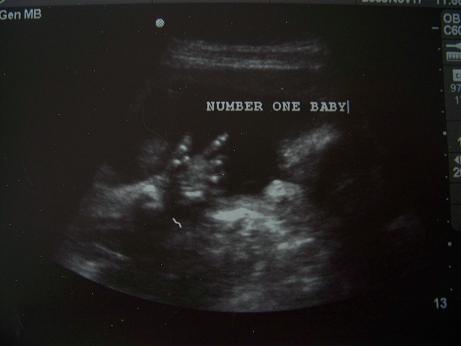 I wonder if the tech would just play along if I asked her to type AREA OF CONCERN on one of the photos...
Posted by: Sarah at 10:44 AM | Comments (5) | Add Comment
Post contains 45 words, total size 1 kb.
November 17, 2009
NOTHING GENTLE
A horrifying ad found by
Mike Potemra
:
Here's a little something I noticed, while Googling an abortion-related issue. I file it away in a little time capsule for the writers of that 2049 show. An ad for an abortion clinic was headlined "Gentle Abortions 4-24 weeks." And the ad promised: "No pain. No memory. Abortion $340. Pill $400."

I am 24 weeks right now. I feel the baby all the time. She wiggles, she kicks, she hops and jumps. And I'm getting big; I look like this: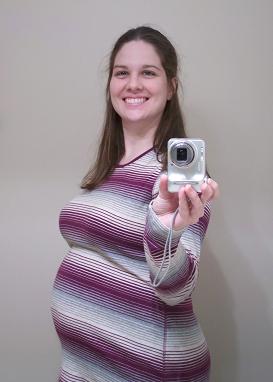 There would be nothing "gentle" about aborting her now. Nothing at all.
Potemra is right: "the mockery will be deserved."
Posted by: Sarah at 02:52 PM | Comments (11) | Add Comment
Post contains 109 words, total size 1 kb.
November 09, 2009
ONE MORE TRIP
Tomorrow I am headed on another trip, this time to visit my in-laws. It will be my first time visiting them by myself...at least since 2000 when I moved to my husband's hometown to be near him for the summer and he went to Airborne School for a few weeks. That was the last time I hung out with his parents without him. Funny, that seems like so long ago.
Since this will be the first grandchild on both sides of the family, I wanted to let my husband's parents get to be a part of the joys of pregnancy and grandparenthood too. They deserve to get to feel tummy kicks just like my mom did.
And my husband's grandmother will be a first time great-grandma too. Exciting milestones for everyone. It will be a fun trip.
So no blogging for the rest of the week. But since I'm apparently down to a mere 49 readers -- oy -- I guess it's not that big of a deal.
Have fun without me.
Posted by: Sarah at 09:34 PM | Comments (15) | Add Comment
Post contains 175 words, total size 1 kb.
52kb generated in CPU 0.015, elapsed 0.0895 seconds.
49 queries taking 0.078 seconds, 156 records returned.
Powered by Minx 1.1.6c-pink.