December 29, 2009
THANK YOU
Thank you for all your help on the previous post. I really appreciate the input. I will head to Babies R Us to try again this week, and hopefully I will be less overwhelmed.
Posted by: Sarah at 09:09 AM | Comments (4) | Add Comment
Post contains 36 words, total size 1 kb.
December 28, 2009
REGISTRY STRESS
Today I went to try to register for baby items. It was a disaster.
I have read posts where other bloggers ask for help with registering. The problem is that most people suggest big items: strollers, car seats, etc. And that's what most people register for. But I've been working on a baby for three years, and after all that time, I have most of the big stuff. I feel like, if I'm bringing a child into the world,
I
ought to be the one to pay for all this crap, not my friends. So I have been to several garage sales and consignment shops to get what I thought I needed. I also have wonderful friends who are done having children and have been very generous with their hand-me-downs. I can't thank them enough for all the stuff they've given to me. Thus I have all the big items.
What I need help with are the little things.
There are a bazillion different types of pacifiers, bottles, nipples, rattles, sippy cups, and gadgets. Do babies really want a mirror in the back seat of a car so they can see forward? Has anyone used the tray on the Bumbo seat and is it worth having? Do you need those concave holders to put in the crib? Bottle warmers? Sun visors for the back windows in the car? The cloth blankets that go in grocery carts? I have a Boppy but how many covers do people usually have?
This is all that's left for me to get. I have the big items: I have two "travel system" strollers, a pack-n-play, a high chair, two bath tubs, a crib, three bouncy seats, etc. I am more than squared away in that department. I also have more clothes than this baby will ever be able to wear in her first year, unless we change outfits every two hours and get her picture made at Sears every weekend. Seriously, I went way overboard this summer. But I need the boring little accessories. This is the stuff I don't have, but to me it's the stressful stuff. For example, I know most babies have a pacifier preference and you just have to figure out what it is...so do you register for one of every kind? It feels dumb to register for a $2.39 pacifier, but that's really the stuff I need at this point. I think someone could go in and buy my entire registry for $20 right now. (Hell, I was tempted to just buy my entire registry today, but that defeats the purpose of a registry.)
What I'd like to know is: What were the little gadgets you thought were the most useful? What brand did your kid prefer and do you know why? How many of each thing did you have, like crib sheets, bottles, etc? I don't want to go overboard, but I also don't want to do laundry and dishes every five minutes either. Is there something you had but didn't think was worth it?
Help.
Posted by: Sarah at 06:36 PM | Comments (26) | Add Comment
Post contains 509 words, total size 3 kb.
December 24, 2009
TOO BIG TO FAIL
I had a friend take a photo of me for my Christmas cards. I did this before Thanksgiving so I had plenty of time to get the cards ready (and before I got Charlie's hair cut.) My husband saw the photo and remarked this morning how big I look.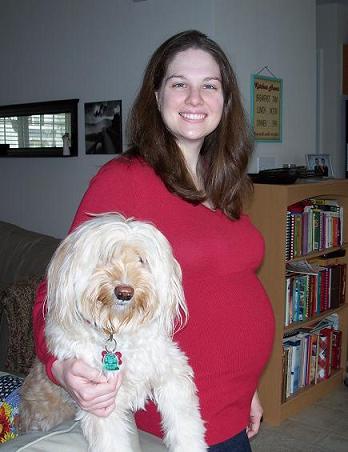 I said, "That was six weeks ago! You should see me today." The dog looks skinnier and I look bigger.
This is me today, in the same shirt, at 30 weeks.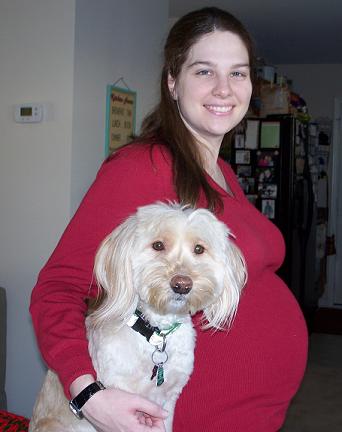 Wife Unit had her baby at 30 weeks. He was little but he was fine. I could have her today and probably everything would work out. She would be fine.
My Christmas joy: I am officially
too big to fail
...
Posted by: Sarah at 08:53 PM | Comments (18) | Add Comment
Post contains 124 words, total size 1 kb.
MY CHRISTMAS MIRACLE
It's her feet. It's her feet that have made me love her.
The silver lining to being high risk is that the ultrasound tech is really emotionally invested in this baby. Which means she sneaks me in for quick ultrasounds whenever she can. Last week we managed to snap this photo.
I keep pulling it up on the computer and looking at her feet. At her little piggy toes splayed out and wiggling.
And all of a sudden, she seems real.
I want to meet her. And kiss her toes.
Posted by: Sarah at 08:38 AM | Comments (13) | Add Comment
Post contains 93 words, total size 1 kb.
December 18, 2009
NO ONE TO FETCH FOR ME
Yesterday I went to my knitting friend's house to relax and hang out. It was great. Her family wouldn't let me lift a finger and took care of me all day: her husband walked my dog in the cold, her boys fetched me things all day, and she kept refilling my water glass. That last one made me especially happy.
The other night, I decided I was thirsty and that I should get up and go downstairs to get some water. And before I could get up, the baby started "playing." She was being very bouncy and was punching the top of my uterus with her little fist. I started pushing back at her, and she'd punch again. It was like we were playing a game. And I loved sitting there playing with her, but I desperately wanted that glass of water too. I knew that if I stood up and walked downstairs, she'd move positions and the game would be over.
And in that moment, I hated being in this house alone. I just wanted to look over at my husband and ask him to go get me some water and then come back to the sofa and keep playing with us. I wanted to have it both ways, the water and the game, and that's not possible when I'm alone.
I just desperately wanted someone to run grab that water for me. And I had no one.
Posted by: Sarah at 08:15 AM | Comments (2) | Add Comment
Post contains 245 words, total size 1 kb.
104kb generated in CPU 0.0302, elapsed 0.1599 seconds.
51 queries taking 0.1407 seconds, 192 records returned.
Powered by Minx 1.1.6c-pink.