October 22, 2009
ANIMATED CHARACTER CROCHETING
Despite having very little energy still, I did manage to get some joke crocheting done lately, specifically a Bender bib and an Underpants Gnome.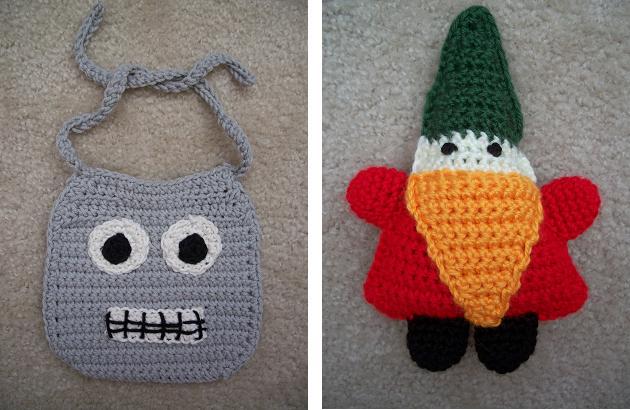 Posted by: Sarah at 11:01 AM | Comments (3) | Add Comment
Post contains 27 words, total size 1 kb.
1
That is an awesome bib. My favorite of Siglet's are these dinosaur ones that someone at church made for him--they're HUGE. This is helpful because he's a fairly, um--KINETIC--eater. He has another few that were store bought and have annoying sayings on them. "Hello world, I have arrived!" Stuff like that. One says "It's all about me." I hate that one and I always turn it upside down if it's the only one left and I have to use it. This is probably more than you wanted to know. Sig
Posted by: Sig at October 22, 2009 11:51 PM (D4fxj)
2
Grr, I forgot to insert html breaks. Sorry.
Posted by: Sig at October 22, 2009 11:52 PM (D4fxj)
3
Holy Talent, Batwoman... is there ANYTHING you can't create???
Brilliant!!! You should totally run an Etsy shop or something...
Posted by: Krista at October 23, 2009 02:22 PM (sUTgZ)
Comments are disabled. Post is locked.
39kb generated in CPU 0.0119, elapsed 0.0727 seconds.
48 queries taking 0.0647 seconds, 126 records returned.
Powered by Minx 1.1.6c-pink.