June 02, 2009
ZERO CHANCE
I have a friend who voted for McCain and loved Palin...but who now is thrilled with Obama and would vote for him in 2012. And this friend wants me to be open-minded about considering voting for him too.
I'd love to dismiss this as the passing fancy of a politically unserious person, but I just can't seem to stop thinking about it. Every time I am confronted with
the badness of Pres Obama
, I have this urge to point it out to my friend as one more reason why things are far worse than I can stomach. Such as this graph from
Cass' post
: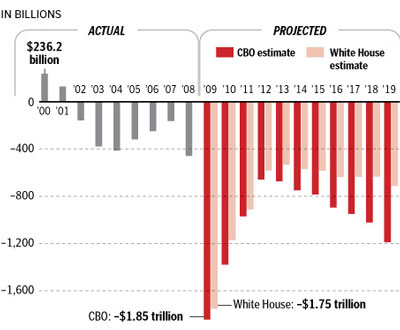 I can't seem to let it go that this friend doesn't see the badness of Obama. CaliValleyGirl pointed out to me that now she understands how people felt about Pres Bush. How it feels to think your president is a buffoon who has no idea what he's gotten himself into.
In contrast to the Bush haters though, I don't think Pres Obama is evil. I just think he wants to live in a USA that looks nothing like the USA I want to live in. But he has the power now to get his way and I don't. I feel impotent as so many enormous changes are altering my country forever. I am aghast, and I am even more aghast that there are people who are
not
aghast.
And as much as I feel like bombarding my friend with email after email of all the horrifying things Pres Obama is doing, I don't. As Lawrence Auster
said
, "the badness of what Obama is doing, and the amount of it, and the complexity of it, is overwhelming and I frankly find it hard to take it in and form a view of it."
All I can do is politely tell my friend that, no, there is zero chance of me voting for Obama in 2012.
Posted by: Sarah at 10:01 AM | Comments (2) | Add Comment
Post contains 320 words, total size 2 kb.
1
If the Pravda article doesn't give pause to think on the way he is taking the country, nothing will. I sent it to my liberal son and his wife. I've heard from them but that hasn't been mentioned. I sent it on Memorial Day.
Posted by: Ruth H at June 02, 2009 11:13 AM (Y4oAO)
2
Ruth -- I was going to link to
the Pravda article
here but didn't really find a place where it flowed. You're right: if flippin' PRAVDA can see what a mess we're in, then geez...
Posted by: Sarah at June 02, 2009 12:18 PM (TWet1)
Comments are disabled. Post is locked.
41kb generated in CPU 0.0497, elapsed 0.0968 seconds.
48 queries taking 0.0892 seconds, 145 records returned.
Powered by Minx 1.1.6c-pink.