June 30, 2008
THIS TURNED MY LIFE UPSIDE DOWN FACE
I heard
this Wesley Clark clip
on the radio today, and it was so stunning I actually turned to the radio with this face.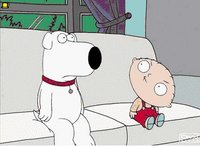 Schieffer: How can you say that John McCain is untested and untried? General?

Clark: Because in the matters of national security policy making, it's a matter of understanding risk. It's a matter of gauging your opponents, and it's a matter of being held accountable. John McCain's never done any of that in his official positions. I certainly honor his service as a prisoner of war. He was a hero to me and to hundreds of thousands and millions of others in Armed Forces as a prisoner of war. He has been a voice on the Senate Armed Services Committee, and he has traveled all over the world. But he hasn't held executive responsibility. That large squadron in Air- in the Navy that he commanded, it wasn't a wartime squadron. He hasn't been there and ordered the bombs to fall. He hasn't seen what it's like when diplomats come in and say, 'I don't know whether we're going to be able to get this point through or not. Do you want to take the risk? What about your reputation? How do we handle it publicly.' He hasn't made those calls, Bob.
Seriously. Upside down face.
Posted by: Sarah at 10:50 AM | Comments (5) | Add Comment
Post contains 232 words, total size 2 kb.
June 20, 2008
YOU CAN HAVE OUR KID
So apparently there's
a new Obama ad
by MoveOn where a woman holding a new baby tells John McCain that he can't "have" her child for his 100 years in Iraq.
Oh, puh-lease.
You know what, John McCain? We don't have a baby yet, but when we do, you can definitely have him or her. That is, if our child wants to join the military; you and I don't get much say in coercing the kid, neither to get in or stay out. But I have no problem with it. And I'm pretty sure you can have Erin's Tucker too. He's already got the camo thing nailed.
So the selfish blond lady can keep her baby at home. We've got at least two others you can "have."
What a dumb ad.
Posted by: Sarah at 03:54 AM | Comments (12) | Add Comment
Post contains 141 words, total size 1 kb.
50kb generated in CPU 0.0169, elapsed 0.0696 seconds.
48 queries taking 0.0631 seconds, 160 records returned.
Powered by Minx 1.1.6c-pink.