September 05, 2009
MOST IMPORTANT ISSUE
I read the EJ Dionne opinion piece in my parents' fishwrap and thought blah blah blah and then forgot about it.
There is an overwhelming case that the electronic media went out of their way to cover the noise and ignored the calmer (and from television's point of view boring) encounters between elected representatives and their constituents.
But later I remembered it and connected it to a graph I saw at The Corner: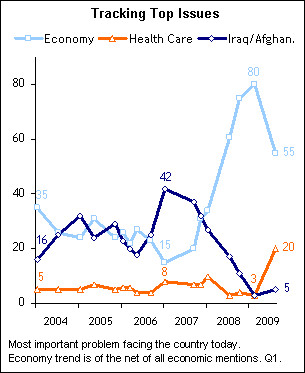 EJ Dionne's core beef is probably the same as mine: that whatever the media reports is whatever becomes important. Ignore Iraq and Afghanistan altogether and the public quickly forgets it and thinks things are going fine or winding down. Ramp up talks on health care and that skyrockets.
The number of news stories people read or hear on an issue shapes how important they think it is. The media has so much power in this realm. They frame most debates and set the order of importance for national issues.
Oh, but wait, that's not the generic conclusion EJ Dionne came to...
But the only citizens who commanded widespread media coverage last month were the right-wingers. And I bet you thought the media were "liberal."
Posted by: Sarah at 07:59 AM | Comments (1) | Add Comment
Post contains 200 words, total size 2 kb.
40kb generated in CPU 0.0129, elapsed 0.0809 seconds.
47 queries taking 0.073 seconds, 134 records returned.
Powered by Minx 1.1.6c-pink.