March 22, 2006
OPTIMISM, ANYONE?
I saw some show yesterday with some newswoman talking about the anniversary of OIF I (honestly, I can never be bothered to keep the shows or the people straight). At the very end of the segment, she said something in closing about the toll of the war blah blah and something like "in a war whose outcome is far from certain." What a defeatist way of ending the show. I'd like to think my country isn't interested in getting into wars we're not sure we're going to win. And I'd like to think that three years in we're still committed to winning instead of being "far from certain." I wish she had ended the program by saying that the road may be hard but the US is not ready to give up. How different everyone's view of this war would be if newspeople threw a dash of optimism into their reporting.
LGF got an email about casualty statistics that's really something to ponder. Anyone who has a loved one in the fight should read it. It also brings up the same thing that I said while my husband was gone: a soldier's job is to soldier. These are things we should all keep in mind as we settle into OIF IV.
Posted by: Sarah at 02:25 AM | Comments (14) | Add Comment
Post contains 215 words, total size 1 kb.
March 21, 2006
UPDATE
I just talked to my Swedish friend, and somehow something came up about a unit leaving for Iraq. She asked if we were still sending soldiers to Iraq, you know, since the bombing started this week.
Oh lord.
When I flipped out about the media's misrepresentation of the air assault, I honestly didn't even think about the repercussions for the global media. I didn't stop to think that the German media might be telling Germans that the US started bombing. What a mess they've caused.
Posted by: Sarah at 10:24 AM | Comments (2) | Add Comment
Post contains 87 words, total size 1 kb.
March 16, 2006
WHAT?
Sweet merciful crap.
Right now on MSNBC on TV, they're announcing that the US has launched the biggest "air strike" in Iraq since 2003. This would be news if it were true, but what is really going on is an air assault, which is nothing like an air strike. An air strike is planes dropping bombs; an air assault is helicopters dropping troops onto the ground so they can kick down doors. Big whopping difference, news folks. Maybe you should get your damn terminology straight before you start blabbing your mouths.
As of right now, the MSNBC homepage has this graphic: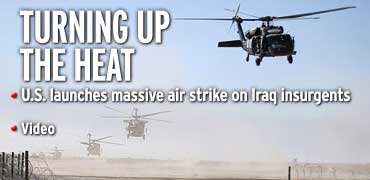 Which leads to this article: U.S. launches largest Iraq air assault in 3 years
Correct information in the article, which the military spoonfed them; incorrect information in their flashy photo.
Oh media, how I roll my eyes at you.
This is not just a nitpicky difference. The two words are completely not interchangable. Why didn't someone correct the anchorwoman, who repeated "air strike" several times? Oh, that's right, because no one at MSNBC has the first clue about the military.
Posted by: Sarah at 01:21 PM | Comments (15) | Add Comment
Post contains 183 words, total size 1 kb.
65kb generated in CPU 0.0421, elapsed 0.1357 seconds.
49 queries taking 0.1111 seconds, 168 records returned.
Powered by Minx 1.1.6c-pink.