October 30, 2006
UGH
I'm sorry, but I don't see any reason it would ever be appropriate to
ask a soldier in an interview
"You ever worry one day your number's gonna come up?" What kind of question is that from a journalist? If you want to get to that issue, could you at least ask it in a less crass way? And then to follow up with whether or not they think their wives are screwing around on them. Sweet merciful crap. What is wrong with people?
Posted by: Sarah at 06:47 AM | Comments (3) | Add Comment
Post contains 86 words, total size 1 kb.
October 16, 2006
THAT AIN'T MY COUNTRY
They've been beating us over the head with that new Chevy commercial during the postseason, and my husband
hates it too
. He flies off the handle every time it's on. He's mad that someone would proudly boil the US down to Hurricane Katrina and Vietnam protesters. I'll have to point out this quote from Slate: "I wonder if they could squeeze in the Rodney King beating and the Abu Ghraib photos, too."
There was a much better commercial on AFN that tried for the same concept. I have been looking online for 15 minutes but can't find any trace of it. Those of you in USAREUR will remember the Navy Reserves commercial that laid out things worth fighting for: hot dogs, Route 66, baseball, etc. This Chevy commercial really misses that mark.
Posted by: Sarah at 08:51 AM | Comments (5) | Add Comment
Post contains 140 words, total size 1 kb.
October 03, 2006
FOOD NETWORK RULES
Is it just me, or is TV going a bit too far with snarky social commentary? I was watching
Cold Case
the other day, and one of the suspects was a former crackhead who'd turned his life around. So Scotty snidely quips, "Yeah, you overcame drugs and had a stint in the Guard; you could be president." Hardy har har. Shut up and solve the damn mystery. It's no wonder I find myself spending more and more time on the Food Network.
Speaking of which, look who I nearly had a heart attack to meet today...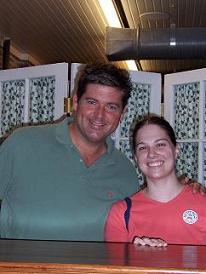 Posted by: Sarah at 02:50 PM | Comments (7) | Add Comment
Post contains 102 words, total size 1 kb.
46kb generated in CPU 0.0136, elapsed 0.084 seconds.
49 queries taking 0.075 seconds, 152 records returned.
Powered by Minx 1.1.6c-pink.