March 19, 2006
NICE
We went to Prague today.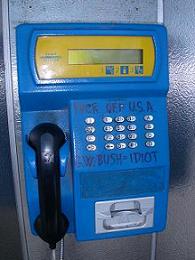 Golly, I just love Europe.
MORE TO GROK:
Pertinent link: 17% of Americans view the US negatively
Anyway, I was just being snarky with my photo. However, I will say that my husband and I are two of the stingiest people you'll ever meet, which is part of the reason we hardly ever travel. So it leaves a bitter taste in my mouth when we spend money to go to another country and have to see crap like this. We also went to the Museum of Communism, and while we were happy to see them tell communism like it is, I was extremely disheartened to see that some of the stuff in the gift shop made fun of the US and George Bush. This just doesn't seem very appropriate to me, nor did the other poster that said something like "Remember when the US stood for freedom?" I don't see why that kind of "joke" has a place in the Museum of Communism.
Posted by: Sarah at 04:32 PM | Comments (11) | Add Comment
Post contains 170 words, total size 1 kb.
43kb generated in CPU 0.0174, elapsed 0.083 seconds.
47 queries taking 0.0696 seconds, 140 records returned.
Powered by Minx 1.1.6c-pink.