November 08, 2006
PIGS FLY
I thought of something I really miss about being in USAREUR.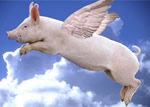 Yes, I actually said that sentence; I can't believe it either. But it came to me in a revelation while I stood in the grocery store with cow blood all over my hands: I really miss the vacuum-packed meat. What is the deal with going to the store and getting covered in chicken and beef juice? This plastic-wrap-over-styrofoam doesn't work, people! It leaks! Which is gross and slightly dangerous. It's not healthy to be walking around covered in raw chicken, right? I hate that. I miss the days of clean packs of meat in the commissary in Germany.
Posted by: Sarah at 05:28 AM | Comments (1) | Add Comment
Post contains 113 words, total size 1 kb.
39kb generated in CPU 0.0113, elapsed 0.0705 seconds.
47 queries taking 0.0626 seconds, 130 records returned.
Powered by Minx 1.1.6c-pink.