July 23, 2010
ITZBEEN
If there's one baby accessory I can't live without, it's my Itzbeen. So much do I love this item that I will do an unpaid awesome review of it. And I've gotten two other moms to buy them as well.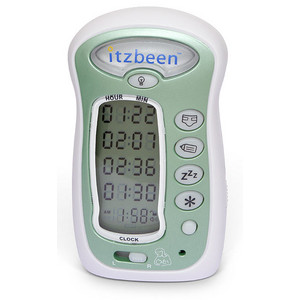 I have heard this product referred to as anal or controlling, but I think that's a misunderstanding of how I use the timer.
I love this paragraph at ThinkGeek:
It is sometime in the middle of the night; you and your new wee one are awake. Once again, it's feeding time! But you can't keep your eyes open without toothpicks, and the only thing which will keep you awake is watching The Lord of the Rings (extended version, cast commentary on, naturally). Even as Aragorn is defending the Hobbits from the Ring Wraiths, you are fighting a battle of your own called deprived sleep infant stage. Eventually, your significant other will have the next set of duties and will ask what time the last feeding was. Unfortunately, "Right about the time Aragorn set that one dude on fire" will not work as an answer. Enter the ItzBeen Baby Care Timer.
After I had the baby, I couldn't think straight. At all. I was in so much pain and in such a daze of sleeplessness that I couldn't tell you my baby's name, much less when she last ate. But all I had to do was click the button each time and we were tracking. No need for guessing. No need to use my brain.
The obvious reason I love this timer is that it prevents me from having to think, or do math against the clock. I don't have to remember when she ate or when we started the feeding or which side to nurse on next or when I changed that gross diaper or how long she's been napping, or all of these things in tandem. I just click click click all day long.
The less obvious reason I love this timer is because it really helps me troubleshoot. If baby is crying, I can see she just ate two hours ago, so it's not likely she's hungry yet. So I can try something different. Or I see that it's been an hour and a half since she woke from her nap, and I'm pretty sure the crying is because she's getting sleepy again. It has really helped me take note of her quirks and patterns. I love it most for that reason.
And we have had the funny conversation in our house where my husband is holding the crying baby and asks me what's wrong with her. I look at the Itzbeen and say, "According to my calculations...nothing. Nothing should be wrong with her." Heh. In that case, she's probably just bored.
I love this item. Seriously. The only thing I would love more is if it could be made into a wristwatch so that I would always have it on me. I get my exercise trekking back and forth across the house to fetch my Itzbeen.
Oh, and the company is great too. My original Itzbeen went on the fritz when baby was 3 1/2 months old. Some of the digital numbers weren't showing all their lines. I shot an email to the address on Itzbeen.com to ask about a warranty, and they quickly mailed me a brand new one as a replacement. So I recommend this product even more because of their fantastic customer service!
And right now I can see that my daughter is 58 minutes into her morning nap, so I probably don't have time to start watching LOTR, as I now have a funny hankerin' to do.
UPDATE: Amy pointed out something in the comments that I ought to have mentioned. The Itzbeen is only around $20, so it's an affordable gadget. It's been worth every penny for me!

Posted by: Sarah at 09:01 AM | Comments (1) | Add Comment
Post contains 647 words, total size 4 kb.
1
First of all, I have to say how much I miss your blog. I understand why, I appreciate all the reasons, but I miss it anyway. Just wanted you to know.
Second - what a great product. I read the whole review and thought "This would be a great baby shower gift - but maybe it will be too expensive for my general budget." So I went to their website, figuring it would be something like $59-79, and it was only 20 bucks! What a great surprise. This is on my list for sure for baby shower gifts. Thank you!
And I hope you are well, and your beautiful little family is thriving.
Amy
Posted by: Amy at July 23, 2010 11:14 AM (Cy1WK)
Comments are disabled. Post is locked.
38kb generated in CPU 0.01, elapsed 0.0566 seconds.
48 queries taking 0.0496 seconds, 89 records returned.
Powered by Minx 1.1.6c-pink.