June 22, 2009
I WISH I COULD THINK OF A GOOD JOKE USING "CHUCK" AND "POLE POSITION"
The other day the hotel phone rang. My husband answered and started chatting, and I figured it was his dad calling. After a while, I started to think it maybe wasn't his dad but I couldn't figure out who it could be.
It was
Chuck Z
.
Chuck had decided to do something nice for us while we were here in Vegas, something he would like to do if he were here. He wanted to get us races at
Pole Position
, the indoor go-kart raceway.
Totally unexpected and cool.
Also it was funny to hear my husband talking on the phone with Chuck like they've known each other for a while, when they've never actually met. Although my husband does call Chuck my "internet boyfriend," so I guess that makes them practically related.
So today we went to Pole Position. I assumed Chuck had gotten us one race, but no, he had sprung for two races and t-shirts for both of us as well! I felt bad about him doing so much for us, but it turned out to be a good thing to have two races.
The race consists of nine laps in a car that goes up to 45 mph. Your first lap is a practice lap to get you oriented, and then they kick the cars up to high gear and you're off. Only my car didn't respond. I was flooring my gas pedal and people were passing me on straightaways. I didn't get why 45 mph seemed so sluggish. Then all of a sudden on the fifth lap, my car leapt into gear! I jerked forward and nearly crashed into a wall. I realized my car had been goofed up.
Luckily I had a second race to redeem myself. I decided to consider the first race a practice shot to learn the curves and not feel so nervous, because I was in fact terrified that I would crash, or cause a crash, or hit someone, or overall make a fool of myself. So one slow race in the beginning was a blessing in disguise. And my second fast race was fun!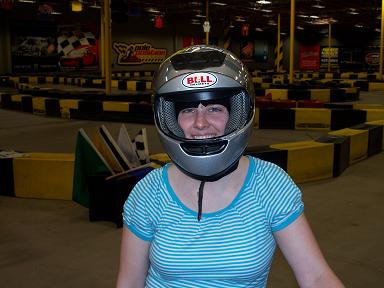 Chuck (and Mrs Z), thank you for treating us to a fun activity that we misers wouldn't have done on our own. We had a great time, and you really shouldn't have. We hope to make it up to you with dinner when you pass through town on your PCS journey.
And we're throwing a little change in the Valour-IT pot for good measure.
Chuck is one heck of an internet boyfriend.
And I can't even say how wholeheartedly I wish him a
Happy Alive Day
...
Posted by: Sarah at 05:55 PM | Comments (3) | Add Comment
Post contains 454 words, total size 3 kb.
1
Nice helmet and I'm glad you are having such a blast! God bless internet boyfriends!
Posted by: Darla at June 22, 2009 07:10 PM (LP4DK)
2
that sounds fun! I would be totally into that.
Posted by: wifeunit at June 22, 2009 07:48 PM (t5K2U)
3
That's an amazing gift! I wish I could see video footage of you and your husband in action!
Has Chuck Z gone to Pole Position?
The name makes me think of the
old cartoon
. (I've never played the video game.)
Posted by: Amritas at June 23, 2009 12:57 AM (2eQQr)
Comments are disabled. Post is locked.
43kb generated in CPU 0.0112, elapsed 0.07 seconds.
48 queries taking 0.0635 seconds, 162 records returned.
Powered by Minx 1.1.6c-pink.